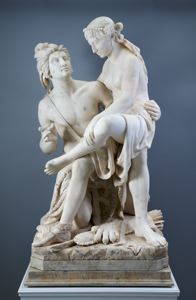 Atala and Chactas

Sculpture
1854
40 x 33 x 33 in. (101.6 x 83.82 x 83.82 cm)
Randolph Rogers
(1825 - 1892)
Artist
Object Type: Sculpture
Medium and Support: marble
Credit Line: Gift of Virginia C. Montgomery in memory of her husband R. W. Montgomery
Accession Number: 1889.5-S
Web Notes
One of the treasures of Newcomb's collection is Randolph Rogers' 1854 masterwork, Atala and Chactas. This marble was donated to Tulane in 1889, making it one of the older works in the museum's collection.
The sculpture depicts Chactas, a Natchez Indian, pulling a thorn from the foot of Atala, his half Seminole, half Caucasian-Christian lover. Rogers based this sculpture on the 1801 book by  François-René de Chateaubriand, "Atala," (though the thorn removal was not a part of the original story). Set in Louisiana, the book was a critique of the "noble savage" trope. It was a popular story at the time of its publishing, and several other 19th century artworks depict scenes from the narrative. However, these artworks and Rogers' sculpture use imagery that rely on inaccurate and stereotypical notions of native cultures.
Though Roger's neoclassical style sentimentalizes and romanticizes imagery of Native Americans, the carving itself is exquisitely executed as displayed in the details in the hair and feathers, the implied softness of the subject's skin, and the tiny thorn Chactas' holds in his hand.  Rogers was considered to be the finest American sculpture at his time and is best known today for his work Nydia, the Blind Flower Girl of Pompeii, versions of which are held by the Met and the National Gallery of Art, and the Columbus Door, which sits in the East Wing of the US Capitol. Atala and Chactas, however, is relatively unknown. Because there are no copies or duplicates, Tulane's sculpture is one of a kind.
Additional Images
Click an image to view a larger version
This object was included in the following exhibitions:
Empire

, 4/13/2018 - 12/22/2018
Support Dimensions: in. (cm)
Support Dimensions: 40 x 33 x 33 in. (1016 x 838.2 x 838.2 mm)
Portfolio List
Click a portfolio name to view all the objects in that portfolio
This object is a member of the following portfolios: