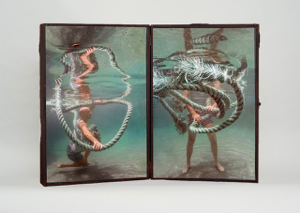 Wrestling Rope

Sculpture
2017
14 x 24 x 18 in. (35.56 x 60.96 x 45.72 cm)
Michel Varisco
(New Orleans, LA, 1967 – )
Primary
Object Type: Sculpture
Medium and Support: dye-sublimated photographic print on aluminum in wooden box
Credit Line: Gift of an anonymous donor
Accession Number: 2021.4.1
Web Notes
The model for is particular composition is New Orleans attorney Hunter Peter Harris IV, a former judge and a graduate of Loyola University. Metaphorically, Harris' underwater gesture of wrestling rope alludes to grappling with human problems and untangling various systems of oppression and harm. This photographic diptych is framed by toolbox over 100 years old.
Artist Statement
Louisiana citizens are America's first refugees of climate change; our land is disappearing and our lives are threatened due to conditions slipping further out of control. In New Orleans, the frightening truth is that the below-sea-level bowl we're living in is sinking deeper, the infrastructure for keeping water out is failing, sea levels are rising, and storms are intensifying. Yet there's a genuine enchantment to our ecology that makes it heart-wrenchingly difficult to witness its destruction, or to abandon.

Spellbound by the uncanny truth that the water that surrounds us both sustains and destroys, Below Sea Level, aims to unpack the intimate and complex experiences of life as an endangered community. A collection of magical realist photographs in which the artist imagines a modern-day Atlantis with residents adapting to life underwater, Below Sea Level is an artistic investigation of place, subject, and the emotionally rich narrative of befriending our predicted fate. How do we survive in this nature, how do we stay grounded on a land that's vanishing? Below Sea Level imagines a poetic, metaphorical response to these urgent questions: we wrestle, submit, float, commune, and endure–we create a new world below the surface of the water.

Unconventionally shot while submerged under water, Below Sea Level also functions as a performative collaboration. The artist worked in the water with a diverse group of residents and gently coached them away from playful swimming toward a somber state of submission. Guiding them to be versus perform reflects the gravitas of our lived reality as an endangered community, while being underwater imbues the images with an elegiac beauty - a particularly spiritual expression of living with impermanence. Out of this experience of powerful surrender, images of resilience and paradox emerge.

Immersed in the water–literally and figuratively–Below Sea Level is deeply rooted in personal experience, while reflecting the larger global climate crisis that is taking such an immense toll on our communities worldwide. We can embrace the water, and realize the true "ecological" ethos, as translated from its Greek roots: oikos (home) and logos (underlying understanding). In this context, water creates an implied connective tissue, and the images reflect a new understanding of home.
case, open Dimensions: 14 x 24 x 18 in. (355.6 x 609.6 x 457.2 mm)
Portfolio List
Click a portfolio name to view all the objects in that portfolio
This object is a member of the following portfolios: