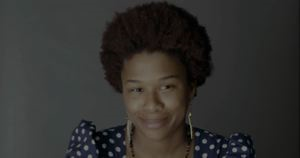 The Arrest

Video
2018
Kira Akerman
Artist
Object Type: Video
Medium and Support: digital video with sound
Credit Line: Gift of the artist
Accession Number: 2019.16.1
Web Notes
Based in New Orleans since 2011, Kira Akerman is a documentary filmmaker whose work has been presented by the International Film Festival Rotterdam, the Prospect New Orleans art triennial, and the Clermont-Ferrand Short Film Festival, among others. Her widely circulated 2017 short film exploring New Orleans's water management system, "Station 15", screened on PBS, DOCNYC, The Climate Museum and a Smithsonian sponsored exhibition that traveled across Louisiana.
"The Arrest" is a 2018 video piece about the incarceration of Chasity Hunter. Hunter was arrested her senior year of high school while riding in a car with a friend who was pulled over for tinted windows. Not knowing her rights, Hunter gave the officers her ID, which showed she had prior warrants. The film, however, is not about why Hunter was arrested, but about the inhumanity of her treatment. In Ackerman's words, the film is "about a young woman's experience in the New Orleans criminal justice system." "Her jail experience was horrific, far from a vision of justice," Ackerman writes. "The "why" matters only in so far as it begs another, bigger question: does anyone, under any circumstances, deserve this kind of treatment?"
This work was included in the Newcomb Art Museum's 2019 exhibition Per(Sister): Incarcerated Women of Louisiana.
This object was included in the following exhibitions:
Portfolio List
Click a portfolio name to view all the objects in that portfolio
This object is a member of the following portfolios: