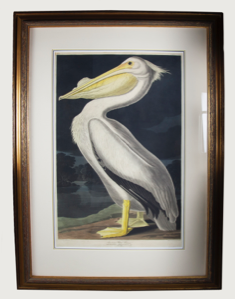 American White Pelican

Print
1836
55 x 41 in. (139.7 x 104.14 cm)
John James Audubon
(Saint Domingue, 1785 - 1851, New York, NY)
Artist
Object Type: Print
Medium and Support: engraving on paper
Credit Line: Gift of Dr. Max Lapham
Accession Number: 1965.1-R
American White Pelican

is a single page from John James Audubon's major work, the four-volume publication

The Birds of America

(1827-1839). Considered one of the finest American ornithological registers to date, the book meticulously documents American birds in their natural habitat.
John J. Audubon was born in San Domingue (now Haiti) in 1785, to a French plantation owner and a creole woman who has been identified as Audubon's father's servant. Audubon came to the United States at the age of 18 to avoid conscription into Napoleon's army, and began performing bird experiments on his father's farm in Pennsylvania, banding and drawing birds to learn more about their migration patterns and habitat. Audubon travelled widely across the United States, including a long stent in New Orleans. An avid outdoorsman, he captured, killed, and even ate many of his bird specimens, while keeping a detailed journal that chronicled the birds' habitats, markings, migration and customs.
Though Audubon took some liberty composing his drawings, he drew directly from the birds themselves, faithfully capturing the fine details found on the feathers, beaks, and markings, and drawing each bird to scale. Twenty-five new species of birds were identified in the publication. Sadly, some of the birds depicted in the volumes are now extinct.
Birds of America

was printed between 1827 and 1838. Audubon's original drawings were converted to etchings, and each print was then colored-in by hand. Nearly 200 copies of the complete 4 volume set were made, but only 120 complete sets are now known to exist today. It was common for pages to be cut-out of the original books to be sold as prints, as is the case of this copy of

American

White

Pelican

.
Other than this print, Tulane University owns several other Audubon prints. But the real jewel of the collection are the 3 volumes of the original 4-volume set housed on the 6

th

floor of the Howard-Tilton Memorial Library. One of these volumes is always on display, and a page is turned each week to protect the illustrations from light exposure. It takes almost 6 years for each plate from the 3 volumes to be featured.
This object is a member of the following portfolios: