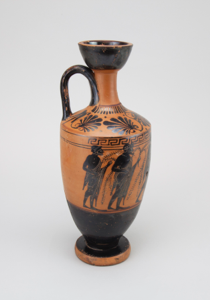 Attic Black-figure Lekythos Vase with Bull being led to Sacrifice Design

Ceramics
c 500 BCE
11.75 x 5 x 5 in. (29.845 x 12.7 x 12.7 cm)
Gela Painter
(active 510 BCE - 490 BCE)
Artist
Object Type: Ceramics
Medium and Support: black paint on ceramic
Credit Line: Gift of Mr. Frank T. Howard to the Howard Tilton Memorial Library
Accession Number: 1901.3-C
Web Notes
This Athenian funerary urn is one of the oldest works in the Museum's collection. A vintage sign in the old Gibson Museum described this piece, with some error, as one of three "funeral urns from the neighborhood of Corinth, Greece, presented to the Howard Memorial Library by Mr. Frank T. Howard in 1901. They were obtained from the official excavator of the Greek government. Their age is about four thousand years."
Thanks to updated research, we know that this work is attributed to the artist known as the Gela Painter, and is closer to 2,500 years in age and originated in Athens (not Corinth). The Gela Painter was a prolific artist in ancient Greece whose distinctive style is recognizable. They sculpted and painted lekythoi vases in the black-figure style which was native to the Attica Peninsula, at the site of present-day Athens. Lekythoi vases, designed to hold oil, were often used as funerary urns that held perfumed oil to anoint the bodies of the deceased or as grave goods to be used by the dead in the afterlife.
Known for creating original compositions that primarily depicted mythological scenes, the Gela Painter's work is sometimes considered to be "rushed' due to inconsistencies in technique. However, some scholars suggest this ambiguity was intentional, as the Gela Painter focused more on symmetry and design over detail and narrative.
In this piece, we see a procession of robed men bringing objects as offerings. The figures are leaning slightly forward, which suggests motion, and their repetition makes a unique composition that can be viewed from any direction. The other side of the vessel shows a bull being let to sacrifice. The vase wobbles slightly, which has been noted of other Gela Painter's works. There is evidence the vase has been restored- suggesting it was found as fragments that were put back together.
Additional Images
Click an image to view a larger version
This object was included in the following exhibitions:
overall Dimensions: 11.75 x 5 x 5 in. (298.45 x 127 x 127 mm)
Portfolio List
Click a portfolio name to view all the objects in that portfolio
This object is a member of the following portfolios: