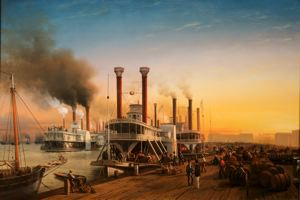 Giant Steamboats at Sugar Levee, New Orleans

Painting
1853
58.5 x 82.5 in. (148.59 x 209.55 cm)
Hippolyte Victor Valentin Sebron
(1801 - 1879)
Artist
Object Type: Painting
Medium and Support: oil on canvas
Credit Line: Gift of D. H. Holmes Company
Accession Number: 1892.1-O
Web Notes
Unveiled at the First Universal Exhibition in Paris, 1855, this large-scale painting gives us a glimpse into 1850's New Orleans. The work presents an idyllic snapshot of the flourishing commercial activity; with bustling workers at a busy wharf unloading sugar barrels and cotton bales, and passengers on a steamboat departing up river. While representing the height of the antebellum commercial prosperity, it also suggests its imminent dawn.
The prominent steamer, The Gipsy, with towering crimson smoke stacks, burned in 1854 soon after the painting's completion. The departing side-wheeler on the left of The Gipsy, The Grand Turk, was well known during the period and was even mentioned in a Mark Twain's novel, Life on the Mississippi. Ahead of the Grand Turk moves a steamer identified by the letters RAH, most likely meaning Sarah. The Sarah was a ship that traded "French corsets, 'ladies' walking shoes, hats" from New Orleans to the rest of Delta.
Sebron's historical accuracy mixed with romantic 19th century sensibility in portraying New Orleans in an awe-inspiring grandeur makes this work one of note. It currently hangs above President Fitt's desk.
Additional Images
Click an image to view a larger version

Frame Dimensions: in. (cm)
Frame Dimensions: 58.5 x 82.5 in. (1485.9 x 2095.5 mm)
Portfolio List
Click a portfolio name to view all the objects in that portfolio
This object is a member of the following portfolios: