">
Skip to Content
---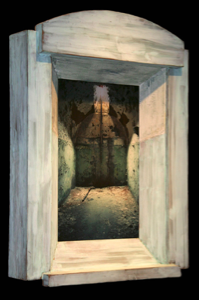 Observatory

Mixed Media
2004
49 x 35 x 6 in. (124.46 x 88.9 x 15.24 cm)
Nancy Wyllie
(Ithica, NY, 1952 – )
Primary
Object Type: Mixed Media
Medium and Support: Ilfochrome photograph, hardwood housing treated with acrylic paint and oil sticks
Credit Line: Gift of Nancy Wyllie
Accession Number: 2021.2.1
Web Notes
Seeing Andres Serrano's 1992 exhibition of the

The Morgue

was a profound experience for Nancy Wyllie and inspired her to make photographs that "explore themes of the forgotten and the disenfranchised with an emphasis on the underbelly of the American experience." Sometime afterward she had a unique opportunity to visit the then-closed 1829 Eastern State Penitentiary in Philadelphia, a space that operated for over 140 years as the world's first penitentiary. With her Nikon F4 camera and hardhat, Wyllie photographed the cells, chapel and common areas in ruin for an entire day. Years later during an artistic breakthrough, she began to pull architectural details out of the Eastern State Penitentiary photographs - and construct hardwood housings with actual thresholds and arched doorways to mimic the barrel vaults in each jail cell.

Wyllie describes these pieces as a "portal through which the viewer would pass". The architectural housings she built for each large-scale photo increased the illusion of depth and created a sense of actual place. Wyllie painted and distressed the wood surface with acrylic paint, oil stick and liquid copper solutions to achieve the verdigris surfaces found throughout the crumbling prison.

Observatory

was the first work in this series to achieve such perspective, by directly uniting the elements of architecture and photography. In 2009 when the work was presented at Hunt-Cavanaugh Gallery, Providence College, members of the Department of Corrections in Rhode Island attended her exhibit and artist talk. This encounter eventually led to a longer-term art teaching opportunity for degree candidates in the prison, an experience that was eventually captured in Wyllie's 2011 documentary film

Exit Strategy: Education Behind Bars.

The film has screened at conferences such as 

Arts in Prison: Sharing Global and Local Practices

 at Brown University 2011 and at 

Violence Transformed

 at the Massachusetts State House in Boston 2014.

Portfolio List
Click a portfolio name to view all the objects in that portfolio
This object is a member of the following portfolios:
---
Your current search criteria is: Related to "Nancy Wyllie".