">
Skip to Content
Yellow Fever Quarantine Guard Camp--East End, Pass Christian, Mississippi
---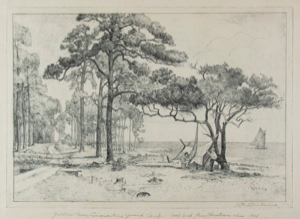 Yellow Fever Quarantine Guard Camp--East End, Pass Christian, Mississippi

Print
1905
11 x 15 in. (27.94 x 38.1 cm)
William Woodward
(Seekonk, MA, 1859 - 1939, New Orleans, LA)
Artist
Object Type: Print
Medium and Support: ink on paper
Credit Line: Gift of an Unknown Donor
Accession Number: 1955.104-P
Web Notes
The last yellow fever epidemic in the United States struck New Orleans in 1905. A common yet misunderstood illness, yellow fever devastated the Gulf South from 1819 to 1905, killing over 41,000 people in New Orleans alone.

Though we know now that yellow fever is spread through mosquitos and not through human-to-human contact, at the turn of the century there was no clear consensus as to how the illness spread, which caused great fear among Americans and led to a mistrust of immigrants and outsiders.

In response to the 1905 outbreak, neighboring communities, still not convinced of the newly suggested mosquito theory, blocked all goods and people traveling from New Orleans from entering their cities. 


The border state of Mississippi was especially aggressive in their response, accusing New Orleans of concealing the outbreak. Due to concern that summer vacationers would infect the town, citizens of Pass Christian placed armed guards around the city's entry points and armed naval ships on its waterways. This "shotgun quarantine" came to a head in July, when ships from Mississippi entered Louisiana waterways in an attempt to stop boats from passing. In response, Louisiana sent their own naval ships – cannons at the ready. "From reading the newspapers," writes Jo Ann Carrigan, author of 

The Saffron Scourge: a History of Yellow Fever in Louisiana

, "one might think that Louisiana and Mississippi were actually at war." The standoff only ended when the federal government stepped in, taking control of the coastal waters. 


In this image, the artist William Woodward depicts an encampment of Pass Christian guards who are stationed at a road. The title, "Yellow Fever Quarantine," does not suggest that the men depicted are sick, but instead refers to the quarantine zone that they are guarding. Woodward, like many prominent New Orleanians, summered in Pass Christian, so it is possible that he was able to cross into Mississippi to capture this image, or was perhaps stopped at the border by the very men he portrays. 

Additional Images
Click an image to view a larger version
overall, sheet Dimensions: 11 x 15 in. (27.94 x 38.1 cm)
Portfolio List
Click a portfolio name to view all the objects in that portfolio
This object is a member of the following portfolios:
---
Your current search criteria is: Objects is "Yellow Fever Quarantine Guard Camp--East End, Pass Christian, Mississippi".