"> ;
Skip to Content
Browse the Exhibitions
Click an exhibition from the dropdown to begin browsing a specific exhibition.
---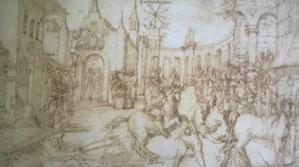 Master Drawings from the Collection of Alfred Moir
Completed
Sep 6, 2001 – Nov 18, 2001
76 Italian and European drawings produced between 1500 and 1900. These drawings are appreciated for their sensitive execution as well as for the rich and widely diverse subject matter they present.

Accompanying lectures included:
"The Perils and Pleasures of Low Cost Collecting" by Alfred Moir
"A Humanistic Education, Annibale Carracci in Rome" by Gail Feigenbaum, Curator of Painting, New Orleans Museum of Art
"Italian Drawings in America" by Robert R. Coleman, Professor of Art History, University of Notre Dame

Accompanying symposium – At Eye's Length: A Symposium on the Art of Drawing, with moderator William R. Tronzo, Professor of Art History, Tulane University. Lectures included:
o "The Draft of Old Master Drawings" by Marjorie Shelley, Sherman Fairchild Conservator-in-Charge, Metropolitan Museum of Art
o "Drawings: Ends and Means" by Mimi Cazort, Curator of Prints & Drawings (retired), National Gallery of Canada, Ottowa
o "The Language of Drawing in Leonardo's Late Work" by Carmen Bambach, Assoc. Curator of Drawings & Prints, Metropolitan Museum of Art
---
Your current search criteria is: All Exhibitions records.