"> ;
Skip to Content
Browse the Exhibitions
Click an exhibition from the dropdown to begin browsing a specific exhibition.
---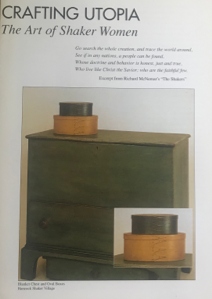 Crafting Utopia: The Art of Shaker Women
Completed
09/05/2002 - 11/17/2002
Items from Hancock Shaker Village, the largest & finest collection of Shaker artifacts in an original, preserved Shaker site. This exhibit focused on the role of women in the community & their importance in the development of Shaker craft. The Shaker Women's designs, which are based upon a life of prayer & labor, are reflected in the exhibit's furniture, kitchen utensils, clothes & carpenter's tools.

With accompanying lecture series, American Design, Shaker Design. Talks inlcuded:
o "Shakers in the South: The Art & Architecture of the Kentucky Shakers" by Richard Gruber, Director, Ogden Museum of Southern Art
o "Russel & Mary Wright: Creating American Lifestyle" by Donald Albrecht, Curator, Cooper-Hewitt National Design Museum
o "From Pottery to Product, 20th c. Women Designers in the USA" by Patricia Kirkham, Professor, Bard Graduate Center for Studies in the Decorative Arts
o "Fancy Goods: An Introduction to the Sale Work of Shaker Women" by Gerard Wertkin, Director, American Folk Art Museum
---
Your current search criteria is: All Exhibitions records.