"> ;
Skip to Content
Browse the Exhibitions
Click an exhibition from the dropdown to begin browsing a specific exhibition.
---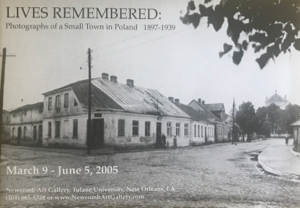 Lives Remembered: Photographs of a Small Town in Poland 1897-1939
Completed
Mar 9, 2005 – Jun 5, 2005
Kaye Marvins, a photographer in Houston, began life as Moyshe Kaplan in the small Polish town of Szczuczyn. Beginning in the mid-1890s he and his father, Zalman Kaplan, photographed the market, church, synagogue and "beach," but most of all, the people. These photos often passed to relatives who now live across the globe. Michael Marvins, son of Kaye, has reassembled this body of work which portrays a vibrant culture in the years before the Holocaust, striking for its normalcy as much as it is a testament of tragedy.

Exhibit held in conjunction with the 25th anniversary of Tulane's Jewish Studies Program
---
Your current search criteria is: All Exhibitions records.