"> ;
Skip to Content
Browse the Exhibitions
Click an exhibition from the dropdown to begin browsing a specific exhibition.
---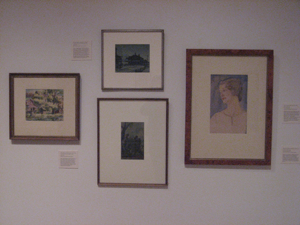 Drawn from New Orleans: 20th Century Works from Private Collections
Completed
Apr 24, 2007 – Jun 30, 2007
Organized by Interim Gallery Director, Thomas Strider, the exhibition presented more than 125 works on paper borrowed from private collections across the city. The show included drawings in charcoal, ink, pastel, and watercolor by artists such as George Bellows, Hans Hofmann, Robert Motherwell, Helen Frankenthaler, Alex Katz, Isabel Bishop, and Jacqueline Humphries. Also featured were drawings by several Newcomb College alumnae including Lynda Benglis, Angela Gregory, and Ida Kohlmeyer as well as former Newcomb faculty members Ellsworth Woodward and Jean Seidenberg.

With accompanying discussion and gallery tour led by artist Laura Richens.
---
Your current search criteria is: All Exhibitions records.