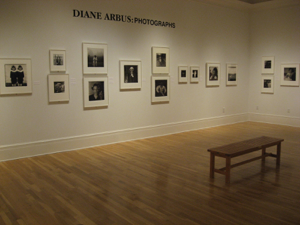 A Diane Arbus: Photographs
Completed
Nov 28, 2007 – Feb 24, 2008
Couples, carnival performers, nudists, transvestites, celebrities. How do we become the people we are? How do we vanquish our genetic inheritance, family expectations, and selves to become who we believe we want to be? The American artist Diane Arbus (1923-1971) sought to find answers to these questions with her work with the camera. One of the most distinctive portraitists of the twentieth century, Arbus paid special attention to individuals in the process of self-transformation: children becoming adults; men becoming women; adults becoming elderly. For Arbus, photography was the perfect medium to record liminal stages and moments of transition.

Diane Arbus first began making photographs in the early 1940s while running a fashion photography business with her husband, Allan Arbus. They made photographs for ad agencies and for Glamour, Vogue, and Seventeen magazines. But by around 1956 she had unofficially ended her family partnership and had begun to work independently—taking her first class with the expatriate Viennese photographer, Lisette Model. Among Arbus's earliest subjects are children's games, Coney Island side shows, and the interiors of movie theaters. Her appetite seemed to be insatiable as she explored New York City as a terrain so far, yet so close, to her and our everyday lives. By 1962, Arbus was working at full maturity and was ready to switch cameras from the 35mm Nikon to a Rollei, a square format camera producing a 2 ¼" negative, that the artist used in her search for even greater pictorial clarity and a more direct relationship with the individuals she was photographing. With the new camera, Arbus quickly developed the classical, frontal style and idiosyncratic subject matter that are salient features of her work.

This exhibition offers a survey of Arbus's career in photography and a rare opportunity to see first-hand many of the artist's most iconic and expressive works of art, as well as several photographs never before seen by the public. Drawn from one of the nation's greatest private collections of American photographs, the show challenges us all to consider one of the most vexing questions of our time: what is the essential role of the camera in contemporary society?