"> ;
Skip to Content
Browse the Exhibitions
Click an exhibition from the dropdown to begin browsing a specific exhibition.
---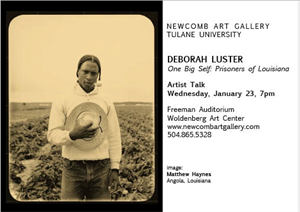 One Big Self: Prisoners of Louisiana
Completed
Nov 28, 2007 – Feb 24, 2008
In 1998 photographer Deborah Luster and poet C.D. Wright set out to produce a record of Louisiana's prison population through image and text. One Big Self is a document to ward off forgetting, an opportunity for those inmates to present themselves as they would be seen, bringing what they own or borrow or use: work tools, objects of their making, messages of their choosing, their bodies, themselves. The photographer has been commissioned, in a sense, by the inmates to make portraits for their loved ones—trying to ensure a balance between photograph and subject, to connect the viewer, whether mother, child, friend, or stranger, to the prisoner. The view is inherently personal.

Accompanying lecture included Deborah Luster, "One Big Self: Prisoners of Louisiana"
---
Your current search criteria is: All Exhibitions records.