"> ;
Skip to Content
Browse the Exhibitions
Click an exhibition from the dropdown to begin browsing a specific exhibition.
---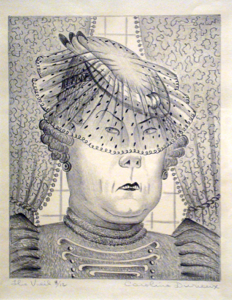 From Society to Socialism: The Art of Caroline Durieux
Completed
Mar 26, 2008 – Jun 15, 2008
With the presentation of From Society to Socialism: The Art of Caroline Durieux, the Newcomb Art Gallery celebrates the artistic career of one of Newcomb College's most illustrious graduates by bringing to light the confluence of people and places that shaped her vocation. howcased are images from Durieux's five decades as a printmaker with an emphasis on her early work in Mexico and Louisiana, alongside works by her Mexican teachers and mentors, and other American artists who traveled south of the border. These artists addressed similar themes but rendered them in very different ways; the thread that unites them is the expressed solidarity of artistic purpose and the socio-political camaraderie they shared in challenging the status quo.

Accompanying program included a monoprinting workshop "Looking at the Art of Caroline Durieux" with artist Emily Minnie
---
Your current search criteria is: All Exhibitions records.