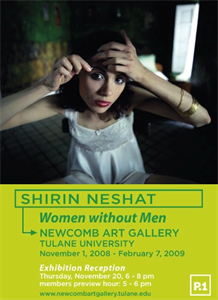 Prospect 1: New Orleans
Completed
Nov 1, 2008 – Jan 18, 2009
As part of the citywide biennial, Prospect.1 New Orleans, the Newcomb Art Gallery, Tulane University is honored to present the work of internationally renowned artist Shirin Neshat. Continuing to use the culture of her native Iran as inspiration, her recent films attempt to reconstruct a more universal approach to notions of identity, society, refuge, and utopia. This exhibition includes four video installations from a larger ongoing project based on the novel Women Without Men by Shahrnush Parsipur. Tracing the lives of different women as they struggle to escape and form a refuge of their own in the midst of the 1953 CIA-led coup in Iran, the novel's surreal yet frank depiction of female sexuality and repression led to the author's own imprisonment and exile.

The imagery that dominated Neshat's earlier work has given way to a more cinematic approach: eschewing the visual tropes of veil-covered women and white-shirted men, her new films forego neatly-parsed representations in favor of a stronger narrative course and more nuanced characterizations. Using the novel as a starting point, Neshat has adapted short films based on the five intertwined female characters -Mahdokht, Zarin, Munis, Faezeh and Farokh Legha, which is not shown here. Elaborating upon the themes she has explored in film and photography, her interpretation of the stories' magic realism blends strong visuals with the plot to create films that straddle both cinema and art. Still employing specifically articulated spaces and multi-channel screenings, Neshat's installation insists upon a visceral and emotional interaction between viewer and the plights of the characters she depicts.

For Neshat, the coincidence in time between the Iranian people's attempt to achieve democracy and independence and the women's fight for survival – through madness, flight, active opposition or conformity – has been the driving force in the creation of her new, fascinating and unforgettable work.

Shirin Neshat was born in Qazvin, Iran, but moved to the United States in 1974. She currently lives and works in New York.