"> ;
Skip to Content
Browse the Exhibitions
Click an exhibition from the dropdown to begin browsing a specific exhibition.
---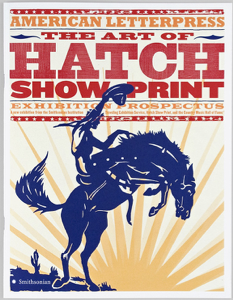 American Letterpress: The Art of the Hatch Show Print
Completed
Aug 12, 2009 – Oct 11, 2009
This sentiment was certainly true in 1879 when brothers Herbert H. and Charles R. Hatch opened Hatch Show Print, a printing shop in Nashville, Tennessee. Their handcrafted posters screamed slogans such as "More Power, More Pep," "So Many Girls You Can't Count Them All" and "Always Clean, Always Good."

Almost 130 years later, Hatch posters hold their own as a stirring and refreshingly tactile contrast to the digital advertising world. American Letterpress: The Art of Hatch Show Print celebrates this time-honored graphic art tradition with a presentation of 126 historical and contemporary posters and 29 hand-carved wooden blocks.

For much of the 20th century, Hatch's vibrant posters served as a leading advertising medium for southern entertainment—from Negro League baseball games and B-movies to magicians and vaudeville shows.

Many of the works promote music concerts by historically significant performers like Louis Armstrong and Elvis Presley as well as popular contemporary bands such as Beck and The White Stripes. New Orleans' important musical heritage gives such works a particular relevance and makes the city an ideal venue for the exhibition.

Each Hatch Show Print poster is individually handcrafted and inked onto paper with hand-carved wood blocks and metal photo plates. Dating back to the 15th century, this painstaking process is known as letterpress.

Hatch Show Print not only carefully re-strikes some of the original wood blocks to reproduce classic images, but also prints over 600 new compositions each year.

American Letterpress: The Art of Hatch Show Print is an exhibition created by Smithsonian Institution Traveling Exhibition Service (SITES) in collaboration with the Country Music Hall of Fame and Museum, and is supported by America's Jazz Heritage, A Partnership of the Wallace Foundation and the Smithsonian Institution.
---
Your current search criteria is: All Exhibitions records.