"> ;
Skip to Content
Browse the Exhibitions
Click an exhibition from the dropdown to begin browsing a specific exhibition.
---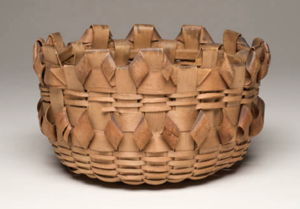 Voices Inside: The Form and Function of Baskets
Completed
Aug 24, 2010 – Oct 17, 2010
Organized by gallery Senior Curator Sally Main in consultation with Newcomb Art Department Emeritus Professor Dr. Jessie Poesch, the two shows presented objects that, rooted in utilitarian traditions such as carrying food or storing provisions, have today become prized works of art.

Voices Inside: The Form and Function of Baskets presented nearly 200 baskets from all corners of the world and of diverse materials and forms. Included were sweet grass baskets of Carolina's coastal communities as well as animal-shaped baskets— representing crabs, alligators, and crawfish—made by weavers from Louisiana's Coushatta and Chitamacha tribes. Splint basketry from New England, birch bark baskets from the Great Lakes region, and pine needles baskets from the Southwest were also featured.

Basketry traditions from the Eastern hemisphere were represented in works such as a spiral-built sarkanda (wild swamp grass) and date-palm basket from the Punjab region of India, a Laotian single-handled woven smoked and stained bamboo splint basket, birch bark baskets from Russia, and Korean twill-plaited cane fishing baskets.

In conjunction with the basket exhibition, some of the finest examples of Newcomb craftsmanship were on view in the Angela Gregory Gallery in Creative Environs. The show featured recent acquisitions such as a large 1902 vase with a stylized rock purslane motif. Also included was the Hollyhock vase, decorated by Ada Lonnegan in 1900, which toured in the 1984 Smithsonian Institution exhibition, Newcomb Pottery: An Enterprise for Southern Women.
---
Your current search criteria is: All Exhibitions records.