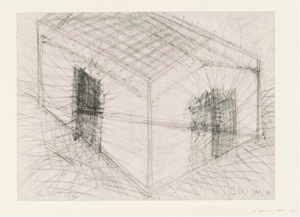 Master Prints from Gemini GEL
Completed
Oct 9, 1996 – Dec 23, 1996
One of four exhibitions inaugurating the newly opened ground-floor galleries inside the Woldenberg Art Center. A collection of work from the Gemini workshop in Los Angeles, CA created in celebration of its 25th anniversary. The exhibit presented a wide range of new technologies in printmaking, ceramics and sculpture in a panorama of styles. Artists represented were John Baldessari, Jonathan Borofsky, Richard Diebenkorn, Mark di Suvero, Jasper Johns, Ellsworth Kelly, Edward and Nancy Reddin Kienholz, Roy Lichtenstein, Malcolm Morley, Claes Oldenburg, Kenneth Price, Robert Rauschenberg, Richard Serra and Saul Steinberg. Organized by the National Gallery of Art.

Accompanying lectures included "Printing Past Abstract Expressionism" by Michael Plante, Professor of Art History, Tulane University; and "Multiple Personalities:'60's Artists and the Reproduced Image" by Marcia E. Vetrocq, Professor of Art History, University of New Orleans.