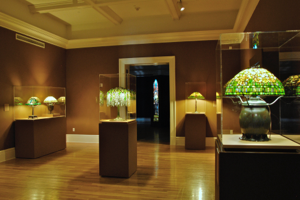 The Alchemy of Beauty: Objects of Art from Tiffany Studios and the Newcomb Pottery
Completed
Mar 4, 2009 – Jun 28, 2009
The Newcomb Art Gallery's spring exhibitions, In Company with Angels: Seven Rediscovered Tiffany Windows and The Alchemy of Beauty: Objects of Art from Tiffany Studios and the Newcomb Pottery, attracted a record number of visitors, surpassing all previous attendance levels.

Presenting a collection of American art glass, Tiffany objects, and Newcomb Pottery, the shows highlighted the shared philosophical and artistic histories between Newcomb College and Tiffany Studios of New York. Such commonalities were shaped in large part by the principles of the English Arts and Crafts Movement embraced by both Ellsworth Woodward (1861-1939), first director of the Newcomb Art School and founding member of the Newcomb Pottery, and Louis Comfort Tiffany (1848-1933), owner and creative director of Tiffany Studios.

The movement was introduced to the United States at the 1876 Centennial Exposition in Philadelphia, and it rejected the mass-produced objects of the Industrial Revolution in favor of quality hand-made items crafted by talented artisans. Reflecting the period's changing social mores, it also offered women professional opportunities and economic independence within "respectable" vocations.

The movement traveled south when New Orleans hosted the World's Industrial and Cotton Centennial Exposition of 1884-1885. Among the exhibitors was a group from the Rhode Island School of Design, founded in 1877 to train artists in the ways of English technical and museum schools. Two graduates of the program were William and Ellsworth Woodward.

Attending the Centennial Exposition as part of the R.I.S.D. coterie, William Woodward decided to make New Orleans his home and soon began conducting drawing and manual training classes. Ellsworth would follow his brother to the city one year later.

Concurrently, a monetary gift from philanthropist Paul Tulane and a legislative act from the state, created Tulane University from the old University of Louisiana in 1884. Immediately after the exposition, Tulane's president, Col. William Preston Johnston, recruited William Woodward to organize separate men's and women's drawing classes for the university and its concomitant high school. The educational programs were so successful it became apparent to the Tulane administration that a women's coordinate unit was needed.

The H. Sophie Newcomb College was founded in 1886 with a $100,000 gift from Mrs. Josephine Louise LeMonnier Newcomb as a tribute to her only child Sophie who had died in 1870 at the age of 15. The nation's first coordinate college for women, H. Sophie Newcomb Memorial College made available to young women the same opportunities for a liberal arts education as was offered to their male counterparts.

At this time, there were few ways that young women with artistic training could earn a living. This was particularly true in the South, which was still recovering from the devastating social and economic effects of the Civil War. Ellsworth Woodward, named the first director of the Newcomb Art School in 1886, thus committed himself to creating opportunities for his female students to apply their fine arts training. He realized this goal through the establishment of the Newcomb Pottery in 1894.

A year later, Mrs. Newcomb watched as a new chapel was built on the school's Washington Avenue campus. Seeking interior furnishings for the structure, she commissioned Louis Comfort Tiffany to create nine ecclesiastical windows and one monogram oculus.

Tiffany's involvement with the design of the chapel, as well as the professional societies to which he and Ellsworth Woodward belonged gave him intimate knowledge of the Newcomb Pottery. In fact, it was Tiffany who invited Woodward to send a display of Newcomb ceramics to the 1901 Pan-American World Exposition following the college's success at the 1900 Paris Exposition.

Tiffany, who had incorporated Tiffany Glass Company in 1885, established his Women's Glass Cutting Department in 1892. Known as the "Tiffany girls," these women originally designed and assisted in developing the full-size cartoons used in fabricating large-scale stained-glass windows and mosaics. Though certain gender distinctions prevailed—hard labor and messy tasks went to the men— Tiffany felt that women with artistic training were ideally suited to glass selection and cutting. He would soon give "his girls" expanded duties.

Clara Wolcott Driscoll (1861-1944), named head of the Women's Glass Cutting Department at its inception, is the creator of Tiffany's iconic motifs, including wisteria, dragonfly, and peony. Driscoll enjoyed a camaraderie with her employer that was based on mutual respect. Under her guidance, the Women's Glass Cutting Department began designing and fabricating Tiffany leaded-shade lamps in 1898. They would later design bronze desk sets, small stained-glass windows, mosaic-encrusted objects, and other "luxury items."

As employment opportunities for women expanded after World War I, the circumstances that brought Tiffany Studios and the Newcomb Pottery into existence changed. In their time, however, Ellsworth Woodward and Louis Comfort Tiffany's belief in the Arts and Crafts philosophies proved that women could apply their artistic skills toward successful vocations. The pieces exhibited in the gallery's exhibitions are tangible evidence of these women's creative efforts.