"> ;
Skip to Content
Browse the Exhibitions
Click an exhibition from the dropdown to begin browsing a specific exhibition.
---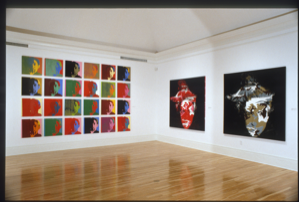 Deborah Kass: The Warhol Project
Completed
Mar 8, 1999 – May 30, 1999
A reassessment, revitalization and critique of the artistic practices and oeuvre of Andy Warhol, tessellating a range of female subjects into Warhol's formats and color runs. Kass forced a reconsideration of Warhol's (and pop culture's) assumptions about celebrity, race, gender and sexuality.

With accompanying artist lecture by Deborah Kass, and lecture "A Portrait is a Portrait is a Portrait: A Reading of Gertrude Stein" by Rebecca Mark, Professor of English, Tulane University
---
Your current search criteria is: All Exhibitions records.