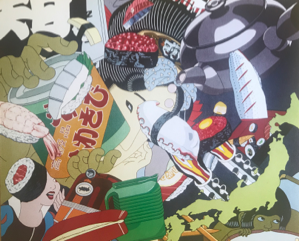 Roger Shimomura: Delayed Reactions
Completed
Jan 25, 1997 – Mar 15, 1997
The nationally touring retrospective exhibition "Roger Shimomura: Delayed Reactions" consists of forty paintings and prints, two installations, and a performance by artist and distinguished professor Roger Shimomura. Shimomura's work is closely related to the Pop and Funk art trends of 1960s America, but he also draws considerable inspiration from Japanese woodblock art, and his resulting boldly colored and often cartoon-like images explore the artist's identity as a third-generation Japanese-American. As a toddler, Shimomura and his family were one of hundreds of thousands of Japanese-Americans forcibly relocated to internment camps after the attack on Pearl Harbor; although unable to fully understand the ordeal during his childhood, Shimomura later began exploring the experience through his art, especially through its impact on his grandparents. Shimomura's work as displayed in "Delayed Reactions" grapples with his distinctly American upbringing and "lost" Japanese heritage, exploring themes of identity and ancestry, politics, race, and lived experience. Combining elements of American comics and Pop Art with forms of Japanese Ukioye woodblock prints, Shimomura uses dissonances and ironic juxtapositions to startle viewers into awareness of experiences Japanese immigrants had during World War II in the U.S.. Curated by Nancy Corwin, supported by the National Endowment for the Arts.

Accompanying lectures included "An American Diary" by Roger Shimomura, Artist, Professor of Art, University of Kansas, Lawrence; "Not Made in Japan: Roger Shimomura and a Japanese-American Identity" by Kazuko Nakane, Art writer & critic, Seattle, WA; and "Border Crossings" by Nancy Corwin, Art historian, curator and writer.