"> ;
Skip to Content
Browse the Exhibitions
Click an exhibition from the dropdown to begin browsing a specific exhibition.
---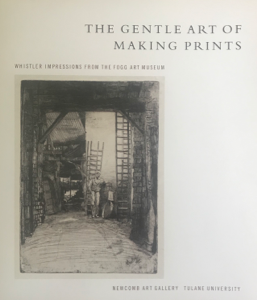 The Gentle Art of Making Prints: Whistler Impressions from the Fogg Art Museum
Completed
Dec 5, 2002 – Feb 23, 2003
Highlighting the work of American master, James Abbot McNeill Whistler who was esteemed as the greatest etcher since Rembrandt, this group of prints convey a sense of the tremendous diversity within Whistler's graphic production. They demonstrate how the material qualities of a print (paper & ink) are key to appreciating the scope of Whistler's endeavor, as well as the reason he was so admired. They acknowledge the reciprocal relationship between Whistler's aesthetic choices & the realities of the market.

Exhibit included a studio demonstration – The Art of Printing an Etching , by Professor Leslie Koptcho, Louisiana State University
---
Your current search criteria is: All Exhibitions records.