">
Skip to Content
Sarah Agnes Estelle "Sadie" Irvine
---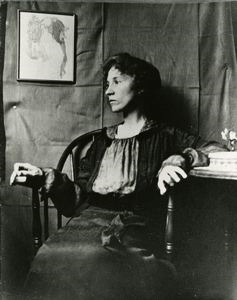 Sarah Agnes Estelle "Sadie" Irvine
Newcomb College Newcomb Ceramicist
(New Orleans, LA, 1887 - 1970, New Orleans, LA)



Born Sarah Agnes Estelle Irvine, but known as Sadie, Irvine was the principal and long-term decorator and aesthetic driving force at Newcomb. She had a lifelong association with the pottery, beginning her career as an undergraduate at Newcomb College, then a graduate student. In the summer of 1908, she was awarded a traveling fellowship to attend the Art Students League in New York to further her education, where she painted from live models for the first time. Upon her return, she remained at Newcomb, and was considered one of the most talented young designers. She learned to model in low relief, resulting in a raised floral design that was less sharply delineated than the previous hard outlines that characterized the pottery's output before 1910. The most talented and aesthetically advanced decorator at all stages of Newcomb, Irvine is widely credited for formulating the distinctive leafy landscapes, including the "moon treescapes," and their variations, populated by the oak and cypress trees lining Louisiana's bayous. She also made numerous woodblock prints and watercolors during her lifelong tenure at the pottery. After the pottery's closure in 1939, Irvine focused her efforts on the undergraduate curriculum alongside Kenneth Smith, the first assistant professor of pottery. Her role shifted yet again. In December 1941, Irvine initiated another endeavor: the Newcomb Guild, an outgrowth of the pottery, as an organization that facilitated individual production without having to adhere to the previous aesthetic demands of the pottery. The year 1952 marked Irvine's retirement, and with it, the official closure of the Newcomb Guild. After her retirement from Newcomb, Irvine remained active in New Orleans' art education, teaching ceramics at the Academy of the Sacred Heart until 1967. Sarah Agnes Estelle "Sadie" Irvine died on September 4, 1970, after a long illness.
Additional Images
Click an image to view a larger version
---
Your current search criteria is: Artist is "Sarah Agnes Estelle "Sadie" Irvine".